The Value of Virtual Agents: Reducing Contact Volume via Web Self-Service
[Estimated read time: 5 minutes]
We've said it before (most recently in Follow These 6 CRM Trends to Differentiate Your Brand), but it's worth saying again: your customers want immediate, always-on service and they want to contact you through their preferred channel, not yours. This should come as great news, because you can easily meet those demands with web self-service and virtual agents, which can cost as much as 60 times less per contact than a call center agent!
What Do Customers Expect from Self-Service?
Number one, of course, they expect it to be there. Self-service used to only be for companies with high volume, but that's no longer true: 90% of consumers now expect a brand or organization to offer a self-service customer support portal, and 70% prefer it as a starting point.
They also expect it to be easy to find: Self-service is most successful when it's offered on every page and customers don't have to dig for it. Finally, they want it to be wherever they are, whether that's a computer, a tablet, a smartphone, or even social media.
The Value of Self-Service
When customers can't self-serve, they switch to more expensive channels. According to Forrester research, an interaction with a call center agent costs approximately 60 times more than using self-service ($6 and higher vs. $0.10 or less).

The savings are staggering even when compared to the cost per contact for email ($2.50 to $5) and live chat ($5 and higher).
Self-service is also a big part of an exceptional customer experience (CX). In fact, it's one of the top three CX projects planned by companies last year. And more than product or price, the experience you offer is now what differentiates your brand from its competitors. Gartner reports that 89% of companies expect to compete mostly on the basis of CX, up drastically from 36% just five years ago.
Virtual Agents Are the Next Generation of Self-Service
Customer satisfaction and loyalty increase even more when self-service is provided through a virtual agent. So, what is a virtual agent, and what's the difference between it and traditional self-service options?
Virtual agents answer the right question (with the right answer)
They use natural language processing (NLP) to understand the meaning of the customer's question—regardless of how it's phrased—and respond with an accurate and relevant response, as opposed to returning a list of topics that correspond to the keywords in the question.
A customer can ask "What do I do if I don't like the color of my sweater?" and receive a response like "If you aren't completely satisfied with the product you purchased, click here to print a return label." Without NLP, they would likely see a long list of knowledgebase topics related to colors and sweaters.
Virtual agents can have conversations
They engage in a dynamic, back-and-forth dialog with the customer. They can drill down into more complicated questions to gather the information they need to provide a specific, accurate answer.
Virtual agents can learn and improve
They capture every question and report on the accuracy of the answers provided. This lets you strengthen and expand your knowledgebase with the information your customers are actually looking for, not just what you think they need.
Virtual agents multiply your ROI
They can be configured to communicate in multiple languages and across multiple channels, all using a single knowledgebase, which reduces your ownership and authoring costs.
How to Use a Virtual Agent to Improve the Customer Experience
Intelligent virtual agent (IVA) software allows you to deliver high-quality self-service that delights your customers, all while reducing contact volume and costs.
1. Deploy the IVA combined with traditional search
Don't just answer the customer's question, but help them find the next step. In the example below, the customer searches for "replacement spark plugs." The IVA responds with instructions to find the relevant section in the right maintenance guide. Then, because it's likely the customer also needs to purchase those replacement spark plugs, the automated chat agent displays product links to make that process easier.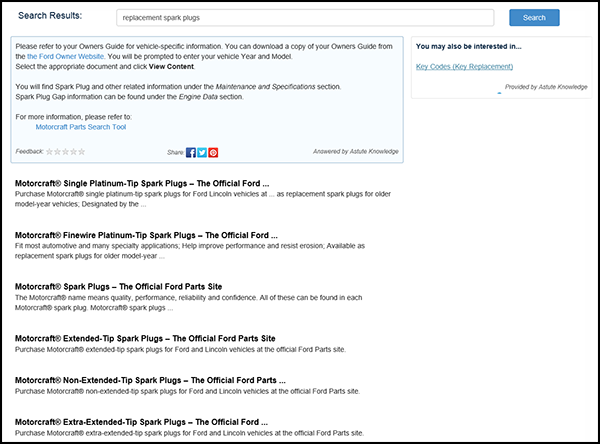 2. Deploy the virtual agent broadly on your site
Don't make your customers—who are often already frustrated—dig deep to find the help they need. Including the IVA on every page of your website allows customers to self-serve at any step of the journey using an automated chat experience.
3. Provide self-service as a core mobile experience
Consumers using a mobile device expect a different experience than those sitting at a computer. Mobile users often have more specific and immediate goals, reduced time constraints, and even different attitudes and states of mind.
In the same way that you wouldn't just resize your website to fit on a smaller screen, you shouldn't use the same iteration of your virtual agent. As we said above, the best IVA software allows you to customize your content and responses for different channels.
4. Underpin the virtual agent with the right knowledge
To set your virtual agent up for success, you need a knowledgebase that can be easily maintained and extended. Specifically, it should be:
Omni-channel

Query driven, using natural language processing

Able to learn from usage and easy to update
5. Power your agents with the same knowledgebase
Ensure your customers are getting clear and consistent answers across channels by giving agents access to the same knowledgebase.

Ideally, the knowledgebase will tailor the answers or provide additional information to meet the different needs of agents.
When your agents and customers are using the same knowledgebase, you'll see reduced call handling time, fewer escalations, and lower training costs.
6. Mine queries for insights and process improvement
The right virtual agent software and knowledgebase will combine machine learning with a non-technical interface, to help you quickly build relevant, channel-specific content based on usage, not anecdotal guessing.
7. Enable seamless escalation
Human intervention will always be necessary for complex problems or high-potential customers. Make sure the live agent on chat, voice, or video receives the relevant context to make the transition as easy as possible.
Read 7 Ways to Improve the Customer Experience Through Web Self-Service for a more in-depth take on this topic.
Real Customer Experiences
For over 15 years, Astute's knowledgebase and self-service software has been helping companies save money, improve CX, generate revenue, enhance brand loyalty, and reduce effort. Here's a snapshot look at three of those companies:
Ford
Ford uses Astute Knowledge worldwide, for employees in call centers and dealerships and for customers on its website and its new mobile app, FordPass.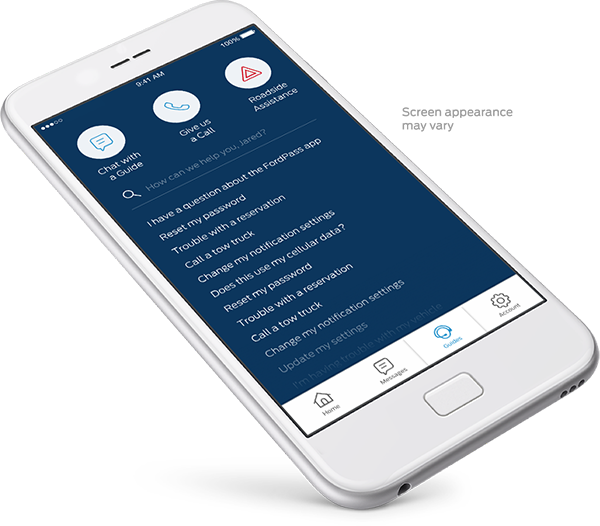 Colgate
Colgate's knowledgebase has been customized to work across various languages and mobile devices.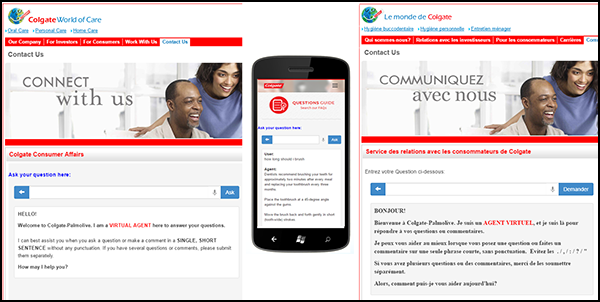 L'Oréal
L'Oréal uses Astute Knowledge on 18 different branded websites (including Tresemmé, shown below), as well as for mobile devices. Automated chat agents answer over 1 million questions per year, resulting in an 80% reduction in emails.