Taking Customer Self-Service to the Next Level
[Estimated read time: 4 minutes]
Brands everywhere are seeking to stand out in an increasingly fragmented marketplace. The secret to accomplishing that? A better customer experience (CX).
But when it comes to CX, organizations vary in their level of maturity. In this blog series, we're diving into Astute's Customer Experience Maturity Framework and exploring how brands can develop their CX capabilities.
In this installment, we turn our attention to customer self-service. The fact that consumers want to solve their own issues and find their own answers, anytime, anywhere, is not news. In fact, 90% of consumers now expect brands to offer self-service options.
Self-Service Maturity Factors
With that in mind, companies absolutely need a mature web and mobile self-service strategy. Here are the factors that matter for self-service:
Accessibility, i.e. number and type of channels

Consistency of experience across channels

Automation using narrow AI technology

Maintainability of the knowledgebase, i.e. how information is kept current

Accuracy and quality of information presented

Ability to leverage multiple data sources to provide responses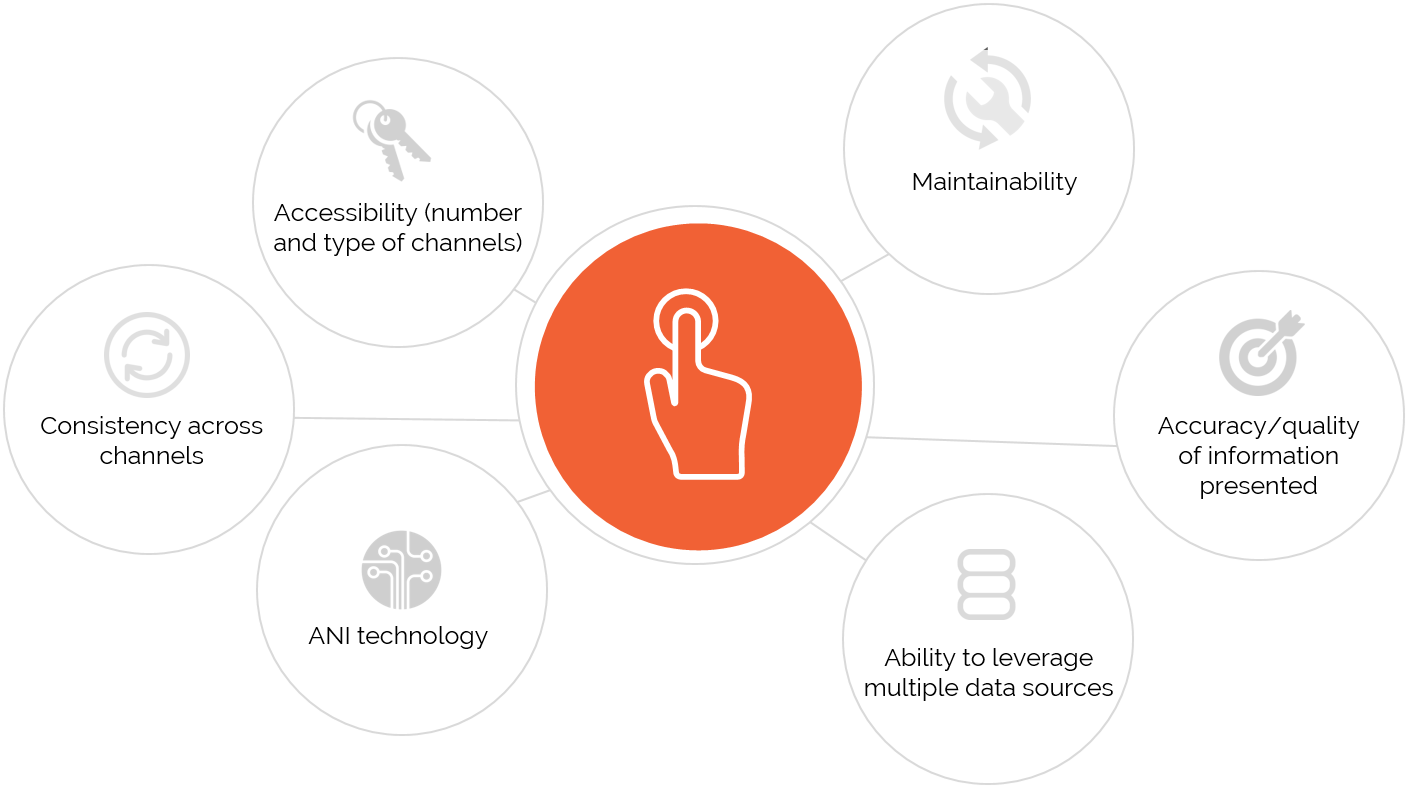 The 5 Levels of Self-Service Maturity
Level 1
Characteristics
Companies with a Level 1 maturity may offer customer self-service, but might not be providing it in all the places customers want or expect. Many companies at this level only have self-service available on the Contact page of their website.
How to move to Level 2
To move up a level, you must offer self-service options on every page of your website. One way to do this is by adding a floating button on the side of every webpage that customers can click to begin a web chat or search your knowledgebase. Making self-service readily available can help increase CSAT and e-commerce conversion rates.
Level 2
Characteristics
Level 2 entails making customer self-service accessible across every page of your website, allowing customers to find answers to their questions when they need them.
How to move to Level 3
Expand your self-service into other channels, such as your mobile app or messaging apps like Facebook Messenger, iMessage, or WeChat. To help ensure higher adoption, consider starting with the channels that are most popular with your existing customer base.
Level 3
Characteristics
At Level 3, you're offering multiple self-service channels for customers to choose from. However, different channels may have different strategies and/or use different knowledgebases.
How to move to Level 4
Unification is the name of the game: unify your channel strategies, unify your self-service experience, and unify the sources from which your knowledge management system can pull information. Customers will enjoy more seamless self-service, and you'll have less duplicated effort to maintain answer accuracy.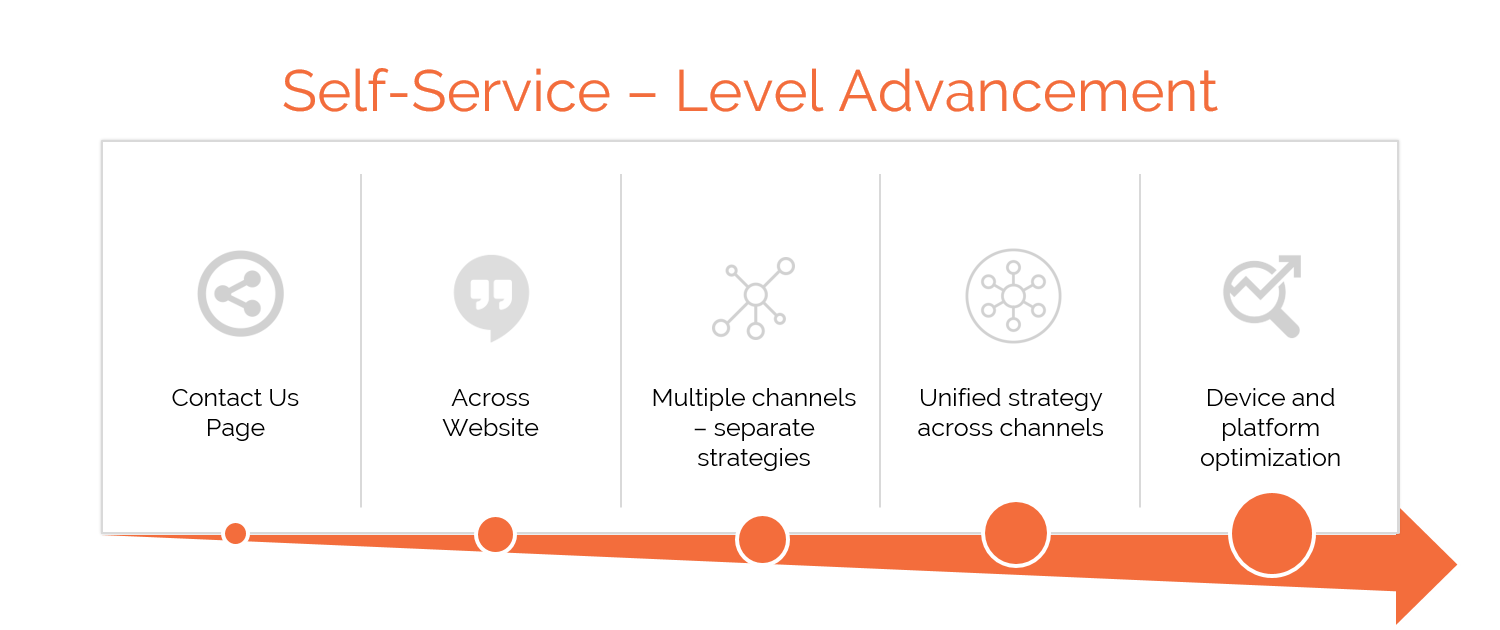 Level 4
Characteristics
Companies at Level 4 have well-integrated channels that provide a consistent self-service experience. At Level 4, you're also leveraging more complex knowledge management, potentially drawing information from multiple source, such as knowledgebases, business systems, existing content, and external trusted sites.
How to move to Level 5
You'll need to focus on two areas to move forward: device optimization and automation. Each self-service experience should be properly optimized for the customer's device — for example, briefer answers might be shown on a smartphone vs. a more in-depth response provided on a desktop.
Automation could include using AI, like chatbots or virtual agents, to handle repetitive customer questions. Artificially intelligent bots provide the answers customers are looking for, while also freeing up human agents to work on more complicated issues, handle escalations, and nurture relationships.
Level 5
Characteristics
Brands providing a Level-5 self-service experience are offering total consistency across multiple channels. You're also leveraging artificially intelligent chatbots to answer the bulk of incoming questions, allowing agents to focus on other value-added activities.
You already have a sophisticated self-service strategy, so what's next for your brand? Take it a step further by using an opti-channel approach, choosing the best channel for each customer based on contextual information and their current place in the customer journey.
Want to see exactly where you stand? Answer these seven questions in the Self-Service Maturity Assessment to find out.
In the next installments of this series, we'll be discussing the other capabilities of the CX Maturity Framework, including escalation, channel choice, personalization, and voice of customer. Stay tuned!
Related Content