Managing Multiple Channels? 7 Reasons You Need Integrated CRM Software
[Estimated read time: 4 minutes]
The first call centers, in the 1970s, were relatively simple. Barclaycard, for example, had a system that could handle up to 72 calls at a time and a microfiche database of information about the company's 1.6 million customers. It wasn't long, though, before competitor Access one-upped Barclay by computerizing its records.
In the mid-90s, a second channel emerged with the advent of email. As before, new technology quickly followed. Using web forms in place of email, companies could automatically process data into CRM software.
Now, 20 years later, call centers (more accurately, contact centers) look almost nothing like their ancestors. Agents communicate via multiple channels – often in real time – personalizing interactions, recording conversations, and multitasking in unprecedented ways.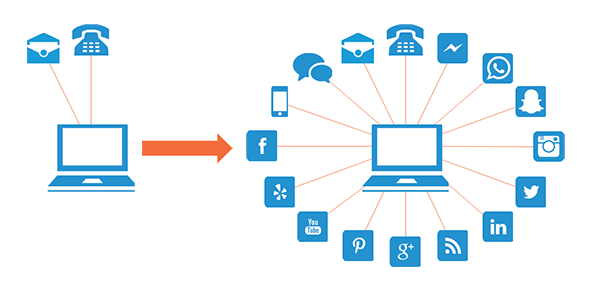 Thankfully, the technology has again followed, and today's CRM software can provide a single, integrated solution that puts the customer first.
In a recent webinar, Astute Product Manager Anthony Kantor talked about seven benefits of integrated CRM software for call center agents, customers, and companies.
1. Reduced time, confusion, and training expenses
When agents are asked to handle multiple channels without an integrated solution, case data, knowledgebases, social channels, and live chats all appear in separate windows, forcing agents to switch back and forth. The result looks something like this: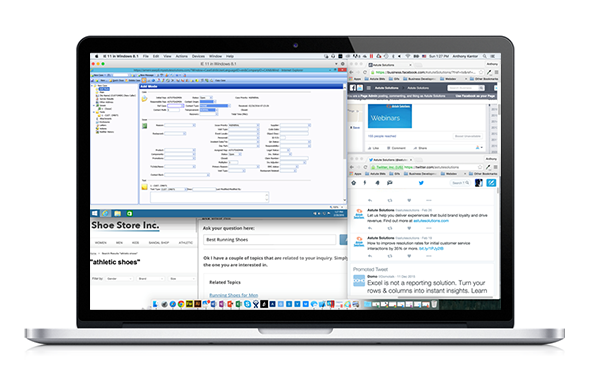 Integrated CRM software puts all the customer data, contact history, and current interactions on one screen, which increases efficiency, accuracy, and ease of use.
2. Complex problems made simple
The majority of call center professionals believe that by 2020 their jobs will be focused on solving complex and technical problems, while the easier questions (e.g., where to buy products) will be pushed to self-service channels. Fingertip access to relevant information and tools helps agents find better solutions faster. In addition, a consistent interface reduces barriers to training and education. 
3. Streamlined recording and reporting
Agents rate real-time channels such as chat and messaging as very good or good 88% of the time. They cite the ability to engage in more than one session at a time, which allows them to discuss a problem with other agents without putting the customer on hold.

An integrated software solution maximizes that feature by displaying all their current chat sessions on one screen, alongside customer data and other useful information. Agents can easily see and respond to activity while recording case details for future interactions. 
4. Seamless switching across multiple channels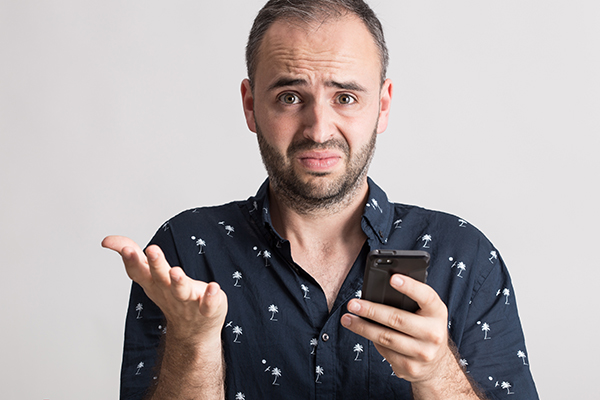 Consumers want to communicate with brands at their own convenience, and are annoyed by interactions that disrupt their day-to-day activities. It's no surprise, then, that 74% of consumers use three or more channels to connect to customer service and 60% change channels depending on where they are and what they're doing. They want to talk to customer service across multiple channels – sometimes even switching mid-interaction – without retelling their story.

The right CRM software gives agents the contact history and context they need to provide a seamless, consistent, and frustration-free experience. 
5. Loyal customers and brand advocates
According to the Better Business Bureau, loyal customers can have a significant effect on a company's reputation. When it comes to the brands they love, 78% of customers spread the word to others. They also impact the bottom line: 68% buy more from that brand, and 54% refuse to buy from competitors. Not to mention that the average spend of a repeat customer is 67% more than a new one.  
How can a contact center make sure new customers keep coming back? The Harvard Business Review found that it's pretty simple: when someone has a problem, reduce the work they have to do to get it solved. That means finding the right answer the first time, and doing it quickly and painlessly. 
6. Personalized customer interactions
A study from Walker predicts that consumers in 2020 will expect companies to proactively address their current and future needs – immediate resolution will not be fast enough. To meet those demands, agents need access to all recorded information and context, as quickly as possible. An integrated software solution can display past orders and returns, previous product issues, customer data, and more, all on one screen. 
7. Higher conversion/purchase rates
Forrester found that 45% of consumers will abandon an online transaction if they can't get the information they need quickly enough. And if they can't find it in a knowledgebase or through a virtual agent, they will turn to the contact center. Agents need immediate access to up-to-the-minute context and website activity, including what the customer has shown interest in, what they've put in their cart, etc. The goal should not just be to answer questions accurately – it should be to offer additional information that encourages sales and to record a detailed history that enables follow-up communication.

To learn more about the benefits of integrated CRM software, Handling More Channels: Working Smarter with Integrated Solutions, and check out Astute ePowerCenter.