Engaging Millennials, Part 1: 4 Ways Auto Brands Can Drive Engagement
[Estimated read time: 5 minutes]
The challenge of capturing the loyalty of Millennials isn't new to any brand. Since this digital-native generation came to the forefront of experience-based spending, companies in every industry have been creating strategies to engage Millennials. After all, this group represents over ¼ of the entire population and have $200 billion in annual buying power. (Forbes)
This is part one in a six-part blog series focusing on ways brands in different industries can improve engagement among Millennials.
The rules for auto brands have shifted. With car preferences changing, from the growing interest in electric and self-driving cars to ride- and car-sharing, car companies are now challenged to change the ways they engage consumers.
4 Ways Auto Brands Can Drive Engagement with This Generation:
1. An Experience-Led Showroom
Despite the digital nature of Millennials shopping habits, the auto showroom experience remains critical. Sharing the same outlook and values as the auto brand is essential to a Millennial's purchase, according to Forbes.
"We cannot remain simply sales focused but address what is mobility in the future, what is car ownership. We are competing with the entertainment industry."
– Michele Fuhs, head of BMW Group Premium Retail Experience.
What this means for automotive brands is that the car showroom experience must evolve to meet the needs of a new generation.
---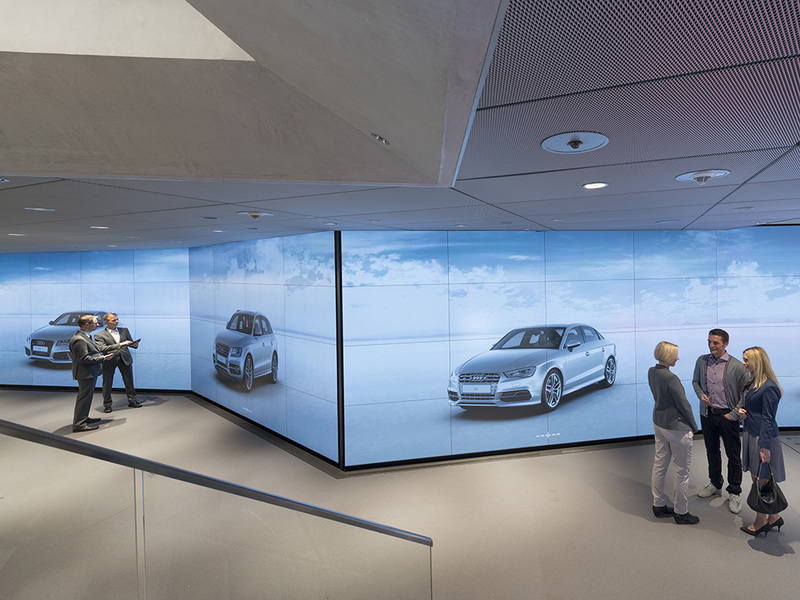 (AudiCity)
---
Many auto brands, such as Audi's digital showrooms known as Audi City, are moving towards an open concept, focusing more on the buying experience rather than their line of automobiles. Some call it the "Apple model;" a store with no doors in the center of a crowded, urban shopping center with only a small part of the interaction focusing on the sale.
2. A connected in-car experience
Over half of Millennials would rather lose their sense of smell than lose their technology. No, seriously: 53% of them, according to 2011 research from McCann Worldgroup. In-car technology is a must-have if auto brands are going to capture the loyalty of this generation.
Toyota's newly formed "Connected Technologies" group understands just that.
"In-car, connected vehicle technology is a high priority for us because its impact on the customer experience is becoming an increasingly important factor in their purchase decisions."
– Jim Lentz, CEO of Toyota Motor North America. 
From hands-free phone calls and voice-controlled navigation and entertainment systems to driver assistance technology to monitor driving lanes and blind spots, auto brands must find ways to connect the driver to their car. Soon, you'll even be able to connect to your car through a voice-assistant, and start your car from your living room, as Ford is doing with Amazon Echo. It is clear that connectivity is driving the future of the car.
3. Digital & Mobile Self-Service
Like we have discussed in our whitepaper about The Death of the Owner's Manual, auto companies are moving away from the standard owner's manual and instead providing onscreen displays, mobile apps and other options for digital self-service. That's because as cars continue to become more connected through new technologies, the operation and features of each automobile would result in an extremely long and confusing owner's manual, with mostly irrelevant information. Millennials have rising expectations for smarter service. They prefer to learn about their car's functions through trial and error. But if they do need help, they want to quickly find the information they are looking for, with context-specific help.
Almost every large auto brand offers their consumers a mobile app to connect them to the information previously found in owner's manuals, providing a smarter, more convenient customer experience. As Ford has done with the FordPass app, customers can now engage in two-way conversations with a virtual agent to find answers. The option and ability to interact on their mobile devices is another key step towards capturing the loyalty of Millennials.
4. Mobility Services
Millennials aren't looking at automobiles in the same way as previous generations. With the rising popularity of Uber, Lyft and other ride- and car-sharing services – "Transportation as a Service" or "Mobility as as Service" must be on auto brands' radar. Ford has made great advancements when it comes to providing mobility to consumers. Through their FordPass mobile app, all consumers (not just Ford owners) can find and pay for ride sharing, car sharing, parking, and other services. Ford is also partnering with car-sharing service Getaround, encouraging Ford owners to lease out their cars to improve global access to transportation.
How Astute Can Help
Astute Solutions can help you meet Millennials' demands of fitting cars into their connected, technology-driven lives.
Our ePowerCenterTM CRM allows your agents, dealers, and salespeople to create seamless conversations with customers across every channel. This serves as a central hub for customer information and a comprehensive source of voice of customer insights.
Astute BotTM can interface with external services, using API connections, to connect your customers to parking, car sharing, and other services without ever leaving your app.
Replace the outdated owner's manual using Astute KnowledgeTM. The interactive self-service solution allows customers to use your mobile app, website, or messenger to find device-optimized, personalized information. If an interaction gets too complicated, AstuteSOSTM provides seamless escalation to a human agent.
Auto brands need to stay ahead of the connectivity curve to capture the loyalty of Millennials.See our platform in action by requesting a personalized demo.
Related Content
---