Conversational Commerce: Who, What, When, Where, and Why?
Consumers want to talk to their favorite brands like they talk to their friends. And they quickly get frustrated when they're forced to engage through strictly structured interfaces. We've said that multiple times before, and no doubt we'll say it again, because it represents a major shift in how customers want to communicate.
In the past few years, this trend has expanded from communication and engagement to e-commerce. Now, consumers want to use those same casual, conversational interactions to research and purchase products, request service, and ask for help.
What Is Conversational Commerce?
The term "conversational commerce" first garnered widespread attention in 2015 when Chris Messina (you might know him as the inventor of the hashtag) briefly wrote about it in a Medium post. In a follow-up post, he explained that conversational commerce "largely pertains to utilizing chat, messaging, or other natural language interfaces (i.e. voice) to interact with people, brands, or services and bots that heretofore have had no real place in the bidirectional, asynchronous messaging context."
TL;DR? Here's the gist: Conversational commerce allows consumers to perform e-commerce transactions by having casual conversations with brands through chat interfaces.
Why Is Conversational Commerce Important?
Conversational commerce brings the personalized attention and expertise of an in-store associate or contact center agent to the convenience of digital channels. Now instead of going to a website and logging in, searching, browsing, clicking, and scrolling to find the product you want, you can open Facebook Messenger, for example, and ask the brand to find it for you.
On the other end of that conversation could actually be an associate or agent, or it could be a chatbot. Using leading edge technologies (natural language processing, artificial intelligence, and deep learning), chatbots can understand and imitate human conversation, quickly sift through massive amounts of information, and create highly personalized interactions. They are ideal for handling the straightforward tasks involved with e-commerce (for example, making purchases, tracking packages, and updating account info), and can recognize when they're out of their league and bring in human reinforcements.
Where Does Conversational Commerce Happen?
Conversational commerce is a way of interacting with consumers that can be incorporated into just about any digital channel. Because it's not a channel itself, you can adopt it without worrying about inadvertently creating an additional silo.
We most often think of conversational commerce as taking place on messaging apps like Facebook Messenger, WhatsApp, and China's WeChat, but it doesn't have to. Instead of adding the "commerce" element to an existing "conversation" channel, you can upgrade an existing e-commerce platform (e.g., your mobile app) with chat functionality. The key is to provide the right combination to meet the unique needs of your customers and your company.
When Does It Have an Impact?
It's important to note that the term is conversational commerce, not conversational sales or shopping. Why does that matter? Because this form of communication can be extraordinarily effective throughout the entire customer journey, not just the buying stage. For example:
E-commerce chatbots can help customers focus their product research.

Brands can use chat apps to send personalized messages similar to SMS messages (for marketing or urgent communication), which are much more likely to be opened than email (as high as 98% vs. 20%).

Customers can use live chat to ask questions during the purchase process.

Chatbots can handle simple customer service requests in place of human agents.

Many messengers allow consumers to make purchases using payment and shipping info already stored in the app.
Who Provides Great Examples of Conversational Commerce?
Many brands are already taking advantage of the one-to-one model of chat apps to create highly personalized experiences. Read on for some conversational commerce examples and success stories…
Sephora has developed multiple Facebook and Kik chatbots. One can identify the lip color in a photo the user uploads, match it to a lipstick sold by the store, and then let the user virtually try it on using a selfie.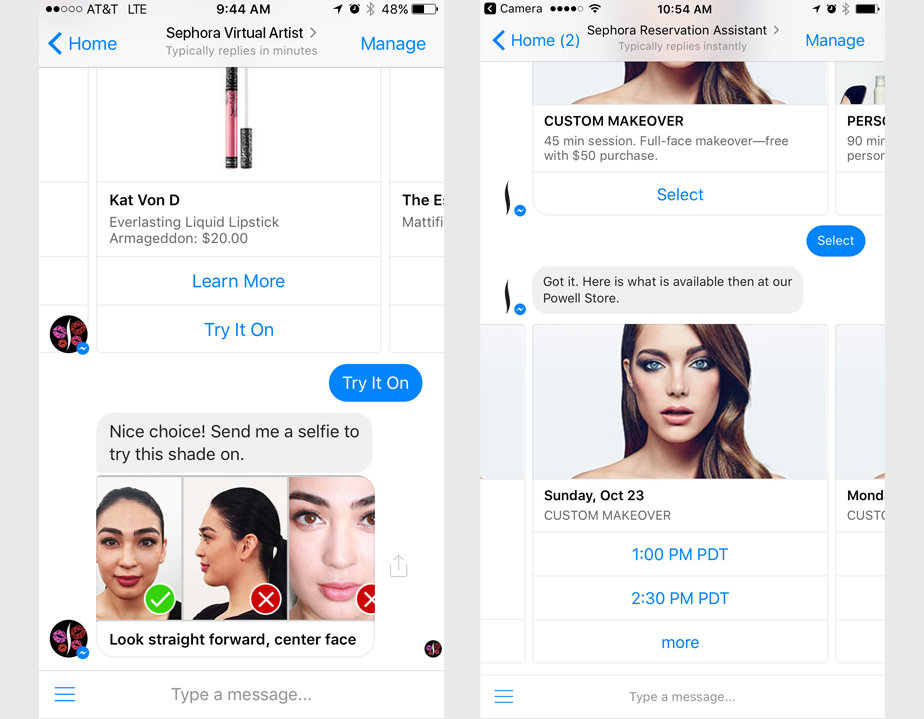 The company's SVP of Digital Mary Beth Laughton touts their results: "We're finding that once a Kik user starts a conversation with our Sephora bot, they're engaging deeply, averaging 10 messages with our Sephora bot per day."
As another set of conversational commerce examples, take Toyota Spain and Absolut. Both ran marketing campaigns on WhatsApp to promote product launches. Toyota asked consumers to flirt with its new Aygo model by sending Valentine's Day-themed messages. Similarly, Absolut customers who wanted an invitation to the brand's real-life launch party had to convince its virtual bouncer, Sven, to put them on the list.
Jeweler Rare Pink uses WhatsApp to recreate the in-store experience, with added benefits. Ten percent of their customers talk to sales reps exclusively through the messaging app. Unlike visits to the store, phone calls, or emails, chatting makes ongoing conversations more convenient, especially because those interactions often last for several weeks before the customer finally makes a purchase. 
Hyatt uses e-commerce bots to personalize customer service through WeChat. In 2015, the hotel chain received and responded to over 50,000 messages, with 60% related to on-site experiences and the rest focused on account management, offers, and loyalty program enrollment.
Conversational commerce is a must-have for brands seeking to differentiate in a crowded marketplace. Astute can help you navigate this new space and successfully incorporate chat and e-commerce bots into your existing digital strategy. To learn more, request a personalized demo.