How is Consumer Behavior Shifting with COVID-19? 3 Key Trends to Follow
The disruption from COVID-19 on brands and consumers globally has been unprecedented.
As we advance through this crisis, new studies, findings, and trends are shedding light on the significance of this disruption. Staying on top of these insights is crucial to know how to best meet your customers' needs and expectations during this time, and offer them positive Customer Experience (CX) during these challenging times.
In this post, we look at three key trends showing the current impact of COVID-19 on customer behavior, and look at what it all means.
Trend #1: Consumers expect to shop more online after the crisis
As discussions of reopening ramp up, a question facing brands is: what will be the lasting impacts of COVID-19 on how consumers shop?
It may be too early to know for sure at the time of this post. However, some studies are shedding light on how consumers expect to move forward.
As reported in Forbes, one study by Prosper Insights and Analytics of over 8,200 consumers found that 30% plan to shop more online in the future, including almost a third of those 65+ years of age.
At the same time, a multi-market research study from GlobalWebIndex (in late April) found that:
3 in 10 consumers plan to shop online more for groceries, household essentials, and personal care products.

1 in 5 consumers plan to use food delivery services more frequently.
In terms of offline behaviors, the same study found that when it comes to returning to shops, only 9% of consumers expect an immediate return to the "normal" that preceded the pandemic.
As well, with concerns surrounding handling cash during this time, consumers are looking more into contactless payment options than before:
38% of consumers view "contactless" as a basic payment option (up from 30% last year), according to one study from The Futurist Group, as reported by PaymentsSource.

As reported by CNBC, Mastercard saw a 40% jump in contactless payments made during Q1 2020, as the pandemic was worsening.
It will be interesting to see how consumer behaviors and attitudes continue to evolve over the coming months.
Trend #2: Consumers are prioritizing availability over price (and spending more at once)
The circumstances surrounding COVID-19 are impacting how consumers prioritize what they buy, and from whom.
As reported in Econsultancy, an April study from Bazaarvoice found that shoppers' priorities quickly shifted from the beginning of the pandemic.
Quality (48%) and Price (47%) were neck-and-neck in terms of being top priorities before the pandemic, followed by Brand (24%). Since then? The availability of products has significantly increased in priority, while Price and Quality shifted down (see figures below). Worth noting is that 58% of respondents had experienced product shortages at stores.
Availability has surpassed price, quality as shoppers' top priority since start of pandemic
1. Availability (49%)
This became a top priority after not ranking outside of shoppers' top 3 priorities before the pandemic.
2. Price (36%)
Before pandemic: 47% (#2 priority)
3. Quality (34%)
Before pandemic: 48% (#1 priority)
*Note: "Brand" was the #3 top shopping priority before the pandemic (24%), according to the study.
Source: Bazaarvoice (via Econsultancy) – Published on May 7, 2020
Nielsen reports that as of early May, the frequency at which people are shopping has returned to pre-pandemic levels after a surge in mid-to-late March. However, average basket values have remained considerably higher since their initial increase at the beginning of the crisis.
These shifts may be temporary. However, these findings show the impact of the pandemic on our mindsets as consumers. Specifically, how we evaluate brands and how our typical shopping behaviors are adjusting.
Trend #3: People are putting large investments on hold – for now
The pandemic is impacting how consumers are spending (and saving) their money.
Many shoppers report spending less and saving more, as they are faced with uncertainty around the length of the pandemic and its impacts on the economy. While consumers are spending more on CPGs and home entertainment, consumers are moving away from buying larger-ticket items for the time being.
Top items on which people are spending less of their money since the pandemic (% of US consumers)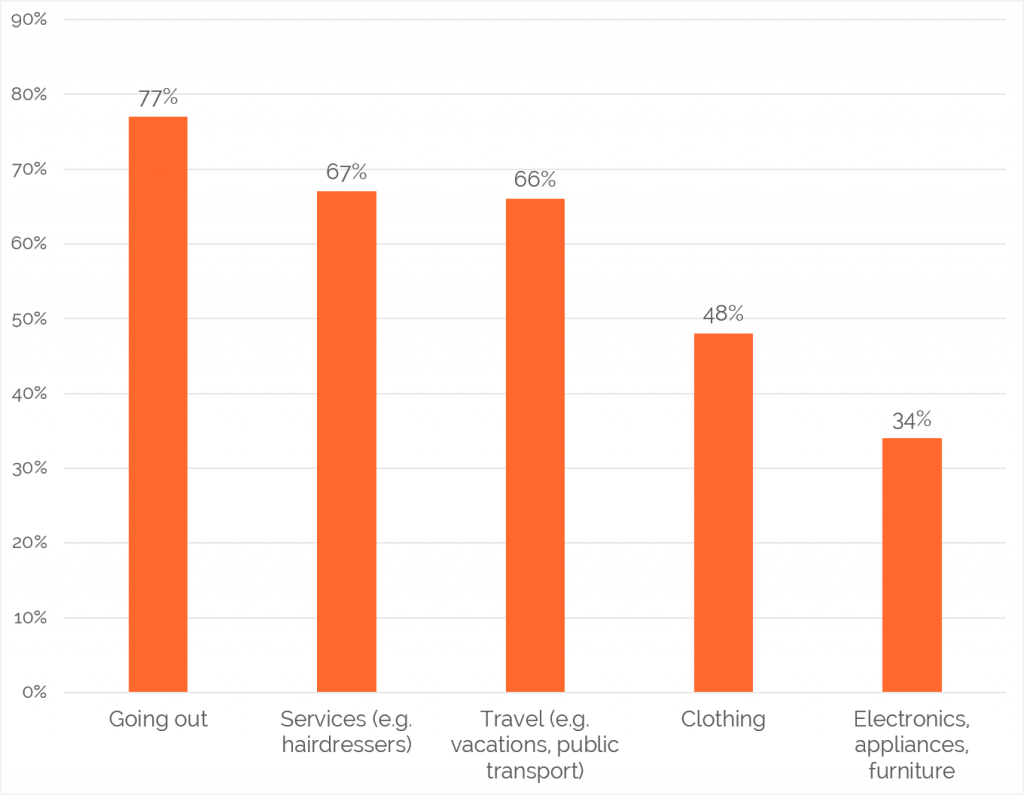 Source: Statista (obtained on May 27, 2020)
A study by GlobalWebIndex finds that 8 in 10 people are putting off big purchases during this time. 4 in 10 are aiming to decrease their day-to-day spending in general.
In the case of travel, stay-at-home advisories and social distancing measures are forcing consumers to reconsider their vacation plans. While the GlobalWebIndex study reports that more than 1 in 2 consumers has delayed booking a vacation due to the pandemic, consumers are putting "vacations" as a top priority post-crisis, as people (this writer included) will be looking to shake off the cobwebs of quarantine.
What does it all mean?
The lasting impact on the pandemic on shifting consumers online – and shifting the customer journey in general – will remain a topic that brands will need to monitor and prepare for as we navigate this crisis.
As we all continue to explore ways to fulfill our needs through (mostly) digital channels, it will be interesting to see which new habits take hold once we emerge from this crisis.
In the meantime, consumer needs, expectations, and perceptions will evolve over the course of the crisis. So may our priorities over this time. It will be essential for brands to listen to their customers and leverage their customer feedback to understand the disruption on their customers. Most importantly, how they can adapt to meet those evolving needs today, and prepare for the long-term to ensure they continue to provide great customer experience in the future.
Astute is helping businesses navigate the crisis with tailored solutions for Voice of the Customer feedback collection, Employee Health Screeners, Crisis Communication, and more. Learn more about how Astute can support you during this crisis.
This article was originally published on iperceptions.com and written by Philippe Aussant, Content Manager at Astute.
Banner image source: Pexels