4 Reasons You Need to Have a Disaster Recovery Plan
Not having a disaster recovery plan in place could cost your business dearly. For example, Delta Airlines experienced a worldwide computer network crash several months ago as a result of a component malfunction. Computers controlling Delta's systems — including reservations and gate assignments for crew — toppled one after the other. Not all of their backups worked. Planes and flight crews were in the wrong places, leading to flight delays, unhappy travelers, and PR headaches galore.
Although situations like this occur daily, most companies are not prepared for the damage a serious outage can inflict upon their operations. According to Forrester, the average time to restore operations from an outage is 18.5 hours.
Having such an outage of your critical systems is not something your business can afford. Yet nearly three-fourths of companies are failing in terms of having a business continuity plan. Not having a plan in place puts your customer trust and brand reputation at risk. Here are four reasons you absolutely must have a disaster recovery plan:
1. The law may require you to have a plan
Many companies are required either by laws or other regulations to have some form of disaster recovery plan in place. As an example, HIPAA (the Health Insurance Portability and Accountability Act of 1996) requires disaster recovery planning under their security rule. This rule requires companies to have:
Data backup plan

Disaster recovery plan

Emergency mode operation plan

Testing and revision procedures

Applications and data criticality analysis
Additionally, Forrester found regulatory or legal pressure to be the top motivator for companies to improve their disaster preparedness. These regulations often state that, at a bare minimum, companies must make a plan and test it periodically. However, stopping at the minimum may increase the likelihood of failure when you need your backup the most. 
2. Outages are a common occurrence
During the past five years, one in three companies have declared a disaster. This is an increase from one in five four years prior. You need to strongly consider proactively planning for downtime, as opposed to being reactive when it happens. Outages are inevitable even if you are part of the 31% of companies who have managed to avoid disaster thus far. A study from The Disaster Preparedness Council identified some major causes of outages: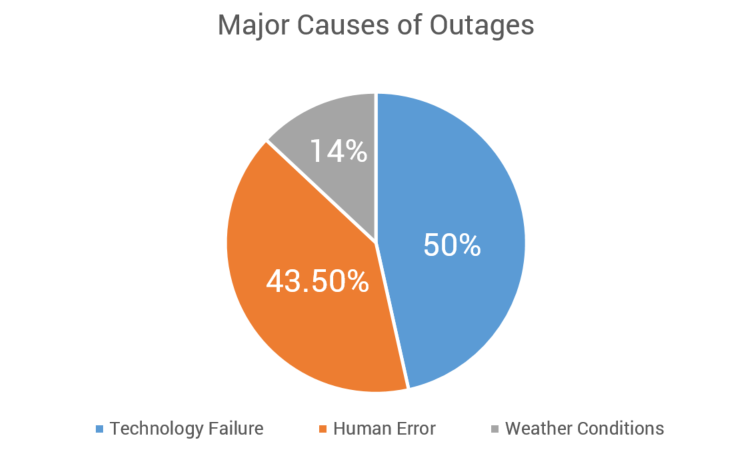 The Council also found over 25% of companies lost their critical applications anywhere from days to weeks. What does all this mean for you and your customers? With customers expecting immediate access and personalized experiences, you need the necessary plan and resources to prevent or mitigate outages.
3. Your company doesn't take disaster recovery seriously
Providing the right amount of funding for your disaster plan will help you save money for those inevitable outages. The biggest problems occur when a plan is required but neither budget nor culture provides the resources. The cost of losing critical applications is estimated to be more than $5,000 a minute. With average time of recovery being 18.5 hours, that works out to over $5.5 million! More alarming is nearly 40% of companies The Disaster Recovery Preparedness Council surveyed believed their company underfunds their planning. 
Being prepared for disaster doesn't need to be costly as long as it is part of company culture. When preparing a business continuity plan, learn what supplies, procedures, and personnel will be needed to execute it. When asked about challenges faced during disaster recovery, 35% of companies said business expectations were not matched with IT capabilities. Having your IT staff involved in the creation of your plan is necessary as they can properly assess those resources. 
4. Your current plan is outdated
It is great if you have a plan already in place! But when was the last time you evaluated it? Having an old plan can be worse than no plan at all. It creates an illusion of being prepared when you're still working from a plan created long ago. The Disaster Recovery Preparedness Council found in their study 28% of organizations test their plans on a quarterly basis, which is recommended, and 23% don't test their plans at all. 
Since consumer expectations and technology are constantly changing, it's critical to update your business continuity plan on a regular basis. Also, keep in mind that most plans are created from the point of view of the company rather than the impact on the customer. The next time you update your disaster recovery plan, try reworking it to match up with your customer journey maps. By focusing on the customer perspective, you can better prioritize the steps in your plan.
For even more tips, download the whitepaper "Disaster Recovery for Consumer Relations: Top 10 Reasons You Need a Better Plan." Want to see how Astute Solutions' cloud CRM can help reduce your risk of a critical service failure? Ask us for a demo.